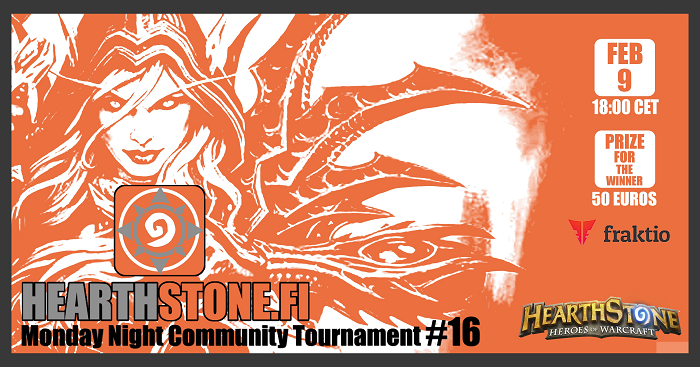 The sixteenth community tournament from www.hearthstone.fi and www.fraktio.fi for Hearthstone: Heroes of Warcraft!
Hearthstone.fi Monday Night Community Tournament #16 is the Finnish community site's sixteenth weekly tournament open for anyone around the world. The tournament has 128 spots and 50 Euros in prize money for the winner. The tournament starts at 18:00 CET (17:00 UTC) and check-ins open one hour in advance.
All communication during the tournament will be handled on QuakeNet's channel #hearthstone.fi.tms. If you don't own an IRC client of your own, you can join the channel via this link on your browser: QuakeNet webchat
The tournament will be played Monday the 9th of February.
Participation
The tournament is played on the EU server.
Just create an account for the site and then press the "Sign up" button located at the top right corner. Guide to reporting results is here: IMAGE GUIDE
Check-ins start one hour before the tournament. The first 128 people to check in will get the spots to participate.
Do note: You will report results on this site, not on the URL mentioned in the images. Only the winner reports results. Please use the upload space to upload the screenshot of your win. You are required to report the classes used.
Format
A single-elimination bracket, with round structure as follows:
128-8 players: BO3
Semi-Finals and up: BO5
Prizes
50€ for the winner, paid via PayPal or traditional bank transfer.
Rules
King of the Hill format, you will use 3 different decks from 3 different classes (3 decks altogether, no zoo lock and handlock at the same time etc.) and the winner has to keep his/her deck while the loser changes to another one. You are not allowed to leave the challenge screen during a match. You are only allowed to play the chosen 3 decks for the duration of the whole tournament..
For a full list of rules, go here.
Do note: You are not required to submit decklists or hero picks in advance.
Schedule (estimated in CET)
Monday, 9th of February

18:00 RO128
19:00 RO64
20:00 RO32
21:00 RO16
22:00 RO8
23:00 Semi-finals
24:00 Final
Do note: All matches are allowed to be played immediately once they become available, unless a result is contested.
Contact
During the tournament:
QuakeNet channel #hearthstone.fi.tms, joinable with your client or this link:
If you have any questions, ask them first in the chat channel proper and wait for an admin to respond to your request.
List of admins:
@sikainfluenssa
@Spydy
@Snipufin
Head admin
ONLY CONTACT WHEN TOLD TO BY TOURNAMENT ADMINS
Markus "Olodyn" Koskivirta
Battle.net: Olodyn#2550
Email: markus.koskivirta at gmail.com
Skype: Markus Koskivirta
IRC: Olodyn@QuakeNet & IRCNet